Welcome to Rediscover Records!
Rediscover Records is a record store in Elgin, Illinois. We are located at 9 S. Spring Street, in historic downtown Elgin. We specialize in the best in New Releases as well as the best in gently pre-played records. We have thousands of LPs, 45rpms, and 78rpm records. We can be reached at 847-961-8445. In March of 2014, we moved to this location. Be sure to visit us at our new location at 9 S. Spring St. in Elgin, Illinois.
Our hours of business are as follows:
Monday: 12-6
Tuesday: 11-7
Wednesday: 11-7
Thursday: 11-8
Friday: 11-7
Saturday: 11- 7
Sunday: 12-4

Remember, you get a FREE button with purchase. Heck, we might even give you one if you ask nicely. Be with the pin crowd! Represent with Rediscover Records pins! As always, we thank you for your business, this is just one way of showing you.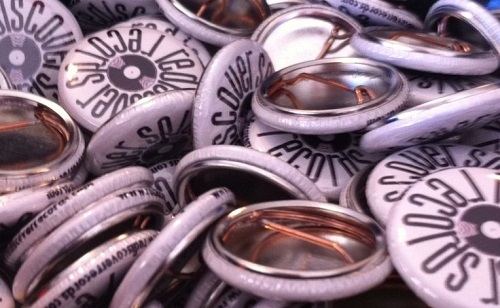 They look massive in this photo, but don't be alarmed these buttons are the small  1" variety that seem to be popular on jean jackets, hoodies and backpacks!

Visa, MasterCard, Debit, Credit Cards accepted. We do not accept American Express. Of course, cold hard cash is always appreciated as well.
On September 9th, all of The Beatles MONO releases will be released on vinyl! We will have all of the LPs in stock (We can reorder them if we are out of stock on a title too). They will also be releasing all of the records in a beautifully packaged box set that will include all the albums plus a 108 page book, that looks nothing short of brilliant. If you would like the box set, we ask that you order it so we can get it in stock for you! We will not have the box set stocked unless you order it.



We were featured in a story about Record Store Day in the April 13th, 2014 of the Chicago Sun-Times. We're quoted extensively! Read the story here. Chicago Sun-Times Record Store Day Story
We do buy your gently played records! We can look at them on TUESDAY thru SATURDAY only. Do NOT bring them on *Sunday* or *Monday*, sorry. See the "About" tab above for more information.
"Like" our Facebook Page! Daily updates but we won't bombard your timeline.
Be sure to click on our "Vinyl" links to the left to find some of the best in new releases as well as gently used LPs. Click on a genre to find a small sample of our vast gently played record collection. Records in each link are alphabetical by album title. There may be variance in price via our website versus in-store. We also have thousands of records priced less than $10, $5, and even choice records in our "dollar bin records".

If ordering via our secure website, the "Buy Now" buttons will take you directly to your own Pay Pal account. If you are not in the continental United States, we will have to make adjustments in the shipping charges. In some rare cases, the internet price and in-store price may differ slightly.
We feature several records at a time here on our home page. These are usually our new releases or new reissues. One look here can tell you that what we have is a little all over the musical landscape. We hope you can find something you like. The time is now to Rediscover Records.

Microcastle/Weird Era Continued
Artist: Deerhunter
$17. 98 | Buy Now
Condition: New & Sealed
Label: Kranky
The album cover pictured is the cover of the album. Sounds silly? Well, there were other covers circulating of this double-album of Microcastle and Weird Era Continued at different times of this release. Wonderful atmospheric noise, noise pop, great music. One of the better releases to come out in 2008. Deerhunter hails from Atlanta, Georgia. Now that a few years have passed since the end of the 00's, it's pretty safe to say that this was one of Rediscover Records favorite releases from said decade.

In the Lonely Hour
Artist: Sam Smith
$19. 98 | Buy Now
Condition: New & Sealed
Label: Capital
A buzz is certainly emerging with Sam Smith's 2014 release "In the Lonely Hour". The song "Stay With Me" is a bonfide hit single. Also includes "Money On My Mind", "Like I Can", "Lay Me Down" (released as a single too), "La La La" (released as a single), "Make It to Me", "Restart" and others. Smith, born in London in 1992, cites Amy Winehouse, Whitney Houston, and Mariah Carey as influences. Sam Smith, as one of many upstart young artists we carry at Rediscover Records, can be found in our New Vinyl racks. Thanks for your support of Rediscover Records. We won't back down in trying to carry the best in new releases!

Shadows In the Night
Artist: Bob Dylan
$22. 98 | Buy Now
Condition: New & Sealed
Label: Capital
Bob Dylan has been creating original music for over 50 years. Let's take a few moments and let that sink in for a minute. In fact, this release of cover songs comes 50 years after the release of Bringing It Back Home in 1965. This 180 gram vinyl release contains "Full Moon and Empty Arms", "Stay With Me", "What'll I Do", "Some Enchanted Evening" and "That Lucky Old Sun", to name a few. Includes a CD of the album as well. Interesting to note, Bob appears to be on a dinner date on the back of the album cover and he is holding a Sun Records 7" single. Nice.

Girls In Peacetime Want to Dance
Artist: Belle and Sebastian
$25. 98 | Buy Now
Condition: New & Sealed
Label: Matador
A late 2014 release but proved to be worth the wait, the Matador release from Belle and Sebastian. Quite a comeback, of sorts, that was met with rave reviews from critics and fans alike. Includes "Nobody's Empire", "Allie", "Enter Sylvia Plath", "Perfect Couples", "Play For Today" and other great tracks. Packaged in a beautiful gatefold 2 record set, this will look sweet in your record collection.

Terraplane
Artist: Steve Earle
$25. 98 | Buy Now
Condition: New & Sealed
Label: New West
The 2015 release from that hardcore troubadour (do people still refer to him as that?) Steve Earle, which makes us think, "I Feel Alright", from which "Hardcore Troubadour" came from is now 20 years old, as of this writing! We digress, this release from Earle offers more of a bluesy approach to the songs, which was recorded with his longtime band, The Dukes. Included on this release "The Tennessee Kid", "Better Off Alone", "You're the Best Lover I Ever Had" and a few others. The audio of this release was mastered specifically for vinyl on 180 gram record, however, it does include a digital download for your glowing rectangle. Find this in-store our New Vinyl Racks, along with the best new releases and reissues. You can also order now via our secure site through PayPal.

Let the Good Times Roll
Artist: JD McPherson
$25.98 | Buy Now
Condition: New & Sealed
Label: Rounder
This roots rock record with the cool retro sound is an early candidate for one of the best releases of 2015. It's getting a heavy dose of buzz in the music circles already! This sophomore effort by Oklahoma native JD McPherson. "Trunkworthy" calls this record "...snarling, simmering revival of rock n roll's first wave"! Pressed on 180 gram vinyl with an MP3 download for your gadget, there is a certain kind of rawness to these tunes. Included is "Bossy", the title track, "Shy Boy" "Mother of Lies", "It Shook Me Up", "It's All Over But the Shouting" and others. Packaged as a spiffy gatefold LP release. Get it!

Fly By Night
Artist: Rush
$29. 98 | Buy Now
Condition: New & Sealed
Label: Mercury
The remastered vinyl reissue of Rush's 1970's classic "Fly By Night". This is a 200 gram pressing on audiophile vinyl. Includes a digital download that was ripped at 320kbps to AAC MP4s. An exact replication of the original cover. Do we really need to tell you what songs are on here? You know exactly what is on this record! Our favorite is "Anthem". Reissued in January of 2015. Thanks for your support and patronage of Rediscover Records.

AM
Artist: Arctic Monkeys
$21. 98 | Buy Now
Condition: New & Sealed
Label: Domino
Huge 2013 release for the Arctic Monkeys. We have it here on glorious 180 gram vinyl that also include an digital download of the entire record, which is commonplace in this day and age of vinyl/digital recordings. Includes "Do I Wanna Know", "R U Mine", "One For the Road", "I Want It All", "Mad Sounds", "Fireside" and other great tracks. Find this in the New Vinyl bins at Rediscover Records. If you wish to purchase via our site, click the "Buy Now" link and you will be directed to your own PayPal account with a modest shipping/handling charge added on.

What A Terrible World...
Artist: Decemberists
$22. 98 | Buy Now
Condition: New & Sealed
Label: Capital Records
The Decemberists are back with their first release in four years! Is it that long? Yes, their previous studio effort was released in 2011! Find this three-sided release in our New Vinyl rack, which includes the songs "Calvary Captain", "Make You Better", "Lake Song", "Mistral", "The Wrong Year", "Carolina Law" and others. The fourth side of this record cannot be played but is a cool laser etching. Colin Meloy often times is considered one of the better songwriters of this era. Catch them on tour. Chicago natives Kelly Hogan and Nora O'Conner are singing harmony with them on at least the first leg of the tour.

Art Official Age
Artist: Prince
$23. 98 | Buy Now
Condition: New & Sealed
Label: NPG Records
The 2014 releases from His Purple Royalness, Prince. Believe it or not, this is Prince's 33rd studio record! Upon its release it made it to Number 5 on the Billboard Hot 200 charts in its first week of release. Randall Roberts of the LA Times calls this release "an exquisite Prince R&B album". The tracks on this record include "Art Official Cage", "The Gold Standard", "Breakdown" and the big hit single "Funk N Roll". Find this in our new vinyl section of records, but don't forget to check the pre-played Prince records in the used bins. As of this writing (Dec 1014) we have some pretty choice Prince 12"singles.

Sonic Highways
Artist: Foo Fighters
$23. 98 | Buy Now
Condition: New & Sealed
Label: Roswell Records - RCA
The much anticipated 2014 release from everybody's favorite, the Foo Fighters! After 20 years, some solid rock records, frequent touring, and all sorts of tangibles adding into the "Cool Quotient", it's kind of hard not to like the Foo Fighters. Even if you're not their biggest fan, or maybe not much of a fan at all - you really have to admit, Grohl and these guys "get it". They'll play stadiums or a surprise show at a pizza joint. They're music historians and aren't afraid to cite their influences or plays cover songs. This release, with 9 different jacket covers, includes "Something From Nothing", "The Feast and the Famine", "Outside", "In the Clear", "I Am A River", "Congregation" and others. Produced by the Foos and Butch Vig. The Foo Fighters are so established in the industry that we didn't even have to mention that *one* other band Grohl was in.

Guardians of the Galaxy
Artist: Various Artists
$26. 98 | Buy Now
Condition: New & Sealed
Label: Hollywood Records
Awesome Mix Tape Vol. 1. Yep, all the songs from Star Lord's cassette and Walkman are here! A two record set that also includes the original score by Tyler Bates on Record 2. If you have not see the film yet, this includes great songs from the 1970's, most of them one-hit wonders, and what's wrong with that? Some of the bands in Star Lord's cassette include, Blue Swede, The Raspberries, David Bowie, Elvin Bishop, Jackson 5, 10cc, Redbone, Rupert Holmes, Five Stairsteps, and Marvin Gaye and Tammi Terrell. This is listed on our Soundtracks page as an OST to the film, but it is a new and sealed copy from the 2014 film.

Sukierae
Artist: Tweedy
$27. 98 | Buy Now
Condition: New & Sealed
Label:dBpm-Anti Records
The much anticipated solo release from Wilco frontman (and lets not forget his involvement in Uncle Tupelo) Jeff Tweedy. The album, a double album (and CD) by design is billed simply as "Tweedy" since Jeff's son, Spencer, plays drums on the record. Includes "World Away", "Flowering", "Down From Above", "Please Don't Let Me Be So Understood", "Wait For Love" and others. It's on two 180 gram discs of vinyl and packaged in a cool gatefold. Tweedy has always been a fan of the double album, especially in the vinyl format (see Wilco's "Being There" as an example. They took a cut in royalties to release a double-CD in lieu of one CD) and this record follows that listening to records from start-to-finish format. Find this in your new releases! Look for Wilco records and Uncle Tupelo records in our new bins as well. We usually have a few. Thanks for your support and patronage of Rediscover Records.

Lazaretto
Artist: Jack White
$31. 98 | Buy Now
Condition: New & Sealed
Label: Third Man Records
The much anticipated 2nd solo release from "Lazaretto" from Jack White. In this new age of new vinyl, this sold an unprecedented, if not a *record* amount of, vinyl in its first week upon its release. We finally have it back in stock! Limited supplies. Chock full of great songs and unusual gimmicks that can only be done with vinyl! You can't replicate this stuff on CD or especially in the digital format. Includes "Lazaretto", "Three Women", "Just One Drink" and "Alone In My Home". Catch Jack White on tour, or in a menacing photograph at a Cub game!
© 2015 All Rights Reserved.