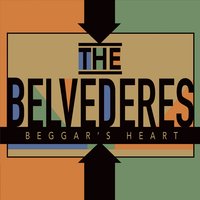 Beggar's Heart
Artist: Belvederes
$10.00 | Buy Now
Condition: Compact Disc
Label: Belvederes Music dot com
Round for round, pound for pound, easily, one of the best area bands in around! Live show workhorses, the Belverderes have certainly honed their craft and have brought that sound to their new record "Beggar's Heart". A well-paced sequence of 11 original songs (and a great cover of "13 Skirts") that include crowd favorites "Beggar's Heart", "Every Single Word", "Closed Doors" and "When I Made You Mine". If you are reading this in the Chicago area, go see them live. They'll absolutely nail just about any cover they attempt and the original material is as good as any rock n roll/Americana you'll find today. They are students of multiple genres so you are just as likely to hear George Jones, followed by Tom Petty, to Steve Earle, Buddy Guy, to Elvis Costello, and their soul medley will remind you of all the greats, like Otis Redding and other Stax artists. Then, just when you think the soul medley is about to end...they keep it going, ala Springsteen with the "Devil With the Blue Dress" medley. Prisoners of rock n roll? You bet your ass. They've played everywhere in the area from Fitzgerald's in Berwyn to right here at Rediscover Records. It's with great pride that on Record Store Day 2015 they played this album from beginning to end, long before the fall of 2015 release date. Released on Compact Disc, we're the Go-To store for The Belvederes latest release!

While we don't normally tell people to go elsewhere for music on our site, we want you to hear this band. If you're more of the digital or streaming set, if you do not live near Rediscover Records, "Beggar's Heart" is available on iTunes, CD Baby, and Spotify. Buy it digitally and give it a listen!
© 2019 All Rights Reserved.