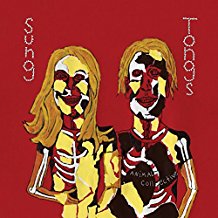 Sung Tongs
Artist: Animal Collective
$25. 98 | Buy Now
Condition: New & Sealed
Label: My Animal House
The 2017 release from Baltimore, MD combo by Animal Collective. They go by names such as Panda Bear, Deakin and Geologist, but no matter, the music tremendous.  This set by the freak folk-experimental pop or description of your choice, outfit includes "Leaf House", "Kids On Holiday", "College", "We Tigers" and a few others. Oh look, we like this release so much we made the album cover thumbnail (?!?!) really big.
© 2019 All Rights Reserved.