News
Welcome to the Rediscover Records news page. This page will contain news related to Rediscover Records. If you are a regular to this site, visit the "News" page often.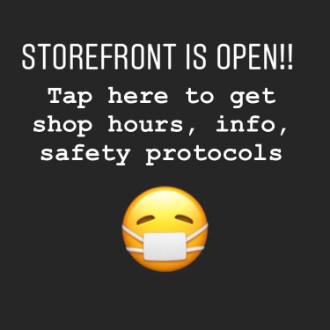 New Hours (For Now):
Monday: CLOSED
Tuesday: CLOSED
Wednesday: 12pm to 5pm
Thursday: 12pm to 5pm
Friday: 12pm to 5pm
Saturday: 12pm to 5pm (Closed July 4th)
Sunday: 12pm to 4pm
June/July 2020: The storefront is OPEN! We will be practicing safety & sanitizing protocols as we all continue life with COVID-19. For the safety of all, we'll have 6 feet social distancing increments marked off within the shop, we will limit capacity to 8 people, and a face covering will be required for entry. Since record shopping is such a hands on shopping experience, we'll have gloves you can wear or sanitizer to apply before you start shopping. Our restroom will be available for hand washing. We will also continue to sanitize door handles, countertops & flat surfaces, our credit card machine, and frequent hand washing/hand sanitizer use by our staff. The staff will continue to wear face coverings as well.
Thank you Elgin for such inspiring Protests, Demonstrations, and Walks. Hate has no home here. Together we stand with you. Stay Safe and Be Kind to All. Thanks.
If you'd like to support some of our black-owned record store brethren, here's 9 shops across the country you can donate to or maybe order a few things: Nine Black-owned record stores
Contact Free Pick-Ups: If you'd like to have curbside pick-up we encourage that as well. We can arrange for pre-paid, contact-less, pick-ups, and/or mailings. We can have them on the counter just as you enter the shop or quickly dash them to your car. More info below
Info on buying from the site and pre-paid, contact free pick-ups: Tap on record album covers for buying options. Click  "Buy Now" and get it shipped to your door. You'll be redirected to PayPal, a modest shipping charge (usually $4.98 for single LPs) will be added. We ship next day. Pick-Up Option: If you'd like to pick up a record (and possibly others) at the shop, we can arrange a "non-shipping" payment, plus sales tax. With the storefront opening May 29th, if you'd still rather pre-pay and pick up a record contact-free, we encourage customers to do that. Send an email, call us, or DM via the socials and we can make an appointment for safe, non-contact, pickup at 9 S. Spring St. Elgin, IL.
Due to concern with COVID-19, Record Store Day has, for the time being, been postponed to 3 different days later this year under the moniker of "Record Store Day Drops". We'll see what transpires. . . We'll keep you posted here and via Instagram, Twitter, and Facebook. It'll just be a couple months later in the year (we hope). Be safe, keep your Social D, wear a mask, and wash your hands too!