News
Welcome to the Rediscover Records news page. This page will contain news related to Rediscover Records. If you are a regular to this site, visit the "News" page often.
WGN Radio Interview with Rediscover Records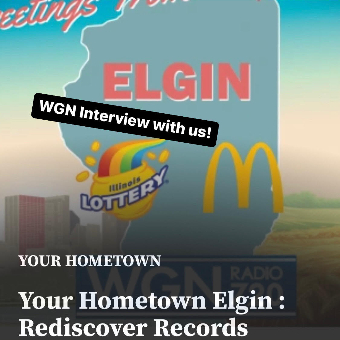 Link: WGN Interview with Rediscover Records
On January 26, 2023 the 50,000 Blowtorch that is WGN Radio (AM Radio 720) featured the City of Elgin as part of their "Your Hometown" series. Several businesses and organizations were interviewed throughout the day including yours truly, Rich from Rediscover Records. *The* legendary DJ John "Records" Landecker (he's in the Rock N Roll Hall of Fame, ya know) was the host and the segment is about 8 minutes long, which is about 5 minutes shorter than most prog rock songs, haha.
Follow us on the Socials!
Yes! We are on social media and you probably already knew that or follow us, but here we are . . . We typically hang wit' Instagram, Twitter, and when we can stomach it, Facebook. Check us out for updates and hot new releases fresh off the delivery truck or great preplayed records that just walked in via purchase, trade, or kind donation to the shop. Thanks for the "likes", shares, comments, and trips to the shop specifically after seeing a post via our socials. We appreciate you.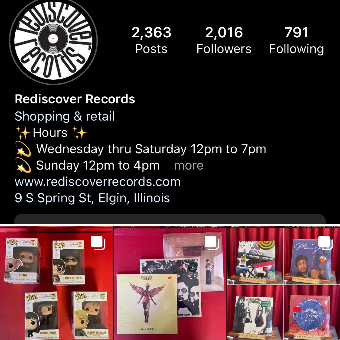 Instagram is where we're most active. Follow our page for the "stories" too.
~ ~ ~ ~ ~ ~ ~ ~ ~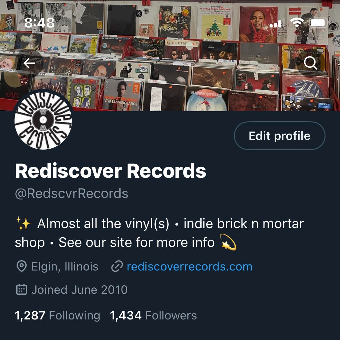 We're on the Twitters dot com!
Rediscover's Twitters dot coms
~ ~ ~ ~ ~ ~ ~ ~ ~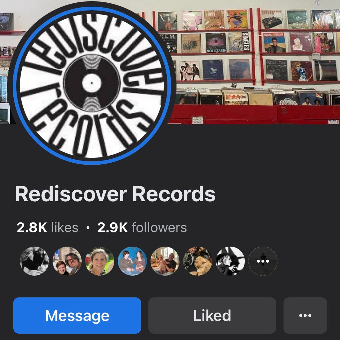 . . . and like we said, if you can still tolerate Facebook, we still utilize it and as a small business, it's been indispensible, so thanks for all the "likes", follows, shares, and trips to the shop or the site after reading a FB post.
Rediscover Records Facebook Page 
Dollar Records are "3 for $1"
Our dollar bins are in the back section of the shop. While dollar bins are what they are, you might be surprised at some of the artists you may find there. You read it correctly! Our Dollar Records are "3 for a $1"! So get three 33-1/3rpm records for a mere 33-1/3 cents (See what we did there?) but the only catch is you must buy in 3's and even if you only find one, it's still only $1. What a deal!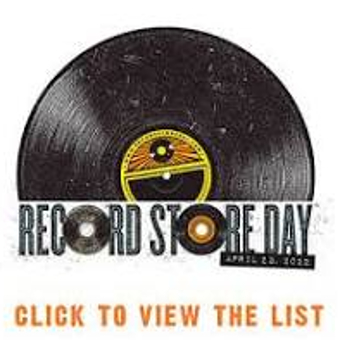 This is our list of Record Store Day Exclusives from throughout the years. The first section here is from Black Friday 2022. DM us if seeking a record from this list. Also...See "Record Store Day" in our header or via the "cheeseburger" in the upper left of your phone for RSD titles to buy directly from our site. We've included a brief capsule on those. Inventory subject to change.
Bobby Digital - Potion
David Bowie - Next Day EP
Bing and Bowie - Drummer Boy
Captain Beefheart - Clear Spot
Chief Keef - 4NEM
Cure - Wish Pic Disc
Dark Horse - Best of
Bryan Ferry - Taxi
Fleetwood Mac - Alt Collection 
Green Jelly - Musick
Jeff Airplane - Live Monterey
Lonnie Mack - Strike Like
Madlib - Low Budget HiFi
Charles Mingus - Mingus
Thelonius Monk - Classic Quartet
Monkees - More of the
Grant Lee Phillips - Walking In the Corn
RHCP - Return of Dream Canteen
Snoop Dogg - Coolaid
Soul Coughing - Best of
Joe Strummer - Live
Trailer Bride - Debut
Watchmen OST
Weeknd - Dawn FM
We have dozens of titles from previous Record Store Day. If checking the shop, these are all organized on the south wall near the other new releases & reissues. Many are marked 20% off and noted on the price tag.
Allman Brothers - Cream of the...
America - Alts
Asia - XXX
Jay Bennett - Where Are You
Bleeding Hearts - Riches
Blur - Bustin'
Ray Charles - Genius Loves Company
C-Bo - Orca
Chief Keef - Sorry 4 the
Cold War Kids
Coolio - It Takes A Thief
Cooper, Alice - Brutal Planet
Czarface - Czarmageddon
Miles Davis - What It Is
Sandy Denny - Gold Dust
Def Lep - High n Dry PicDic
Dillinger Escape Plan - Disassoc
Fats Domino - Here Comes
Steve Earle - 7"
Echo & Bunnymen - bsides
Everly Bros - Hey Doll Baby
Peter Gabriel - Live Blood
Go Team - Proof of Youth
Noel Gallagher
Gong - Gong of the 70s
Kirk Hammett - Portals
Elton John - Bell Sessions
Judas Priest - Hero Hero
Kinks - Waterloo Sunset
Knack - Live
Lil Wayne - Sorry 4 the Wait (Compact Disc)
Darlene Love - D Love
Nick Lowe - Wireless World
Johnny Marr
Mayor Hawthorne - Impressions
Tim McGraw - Undivided
Mr Big 
My Morning Jacket - Live RCA
Nico - Live
Nico + Faction - Camera Obscura
Pearl Jam - Live on Two Legs 
Reigning Sound - Memphis
Replacements - Live
Keith Richards - Talk Is Cheap (tapes)
Super Furry Animals - Rings Around the World
Slash - Live at Studio 60
Santana - Splendiferous
Sepultura - Revolusons
St Vincent - Nowhere Inn
Stiff Little Fingers - BBC
Donna Summer - s/t
Superchunk - Incidental
Supergrass - Moving
Twiztid - 7"
Ultravox - Live
U2 - Celebration
Voivod - Angel Rat
Weyes Blood - Innocents
World Party - Seaview Presents (Great Best of)
The Who - It's Hard
~ As always, thanks for your biz and support! ~
Classical and/or Opera LPs Special
When shopping in-store, all of our classical and/or opera records are as price or get the special price of "3 for $10". All of them are reasonably priced regardless with most of them less than $9 and some under $5 but why not get 3 of them for $10? This includes the Box Sets of Classical and Opera as well. One trait of classical and opera LPs is that the original owners took very good care of them. Records are typically clean and any inserts that may have been included are left intact. Take advantage of getting a Box Set, or Bach's Set, today! #HEYO!!!