News
Welcome to the Rediscover Records news page. Flash! This page will contain news related to Rediscover Records; new releases, new arrivals, or in-store live appearances. If you are a regular to this site, visit the "News" page often.
Spectacular Live Music Performance
Join us July 19th, 2019 for a spectacular live music performance by Scott Ligon, Casey McDonough, and John Perrin. The show will begin at about 7:30 and will continue til about 10pm. There's no cover but we will have a donation can for the band. We'll have some bottled water, sodas, and snacks. If you'd like to bring a little something for yourself to drink, that's up to you.
This bio by Scott Franson does a much better job of describing what you're in for than we could.
"Scott Ligon, Casey McDonough, and John Perrin are three of the most hardworking musicians in Chicago. Collectively, the trio have jointly and separately spent many years as members of NRBQ and The Flat Five and performed with, were members of, or played on albums by artists such as Chuck Berry, Brian Wilson, John Sebastian, Mavis Staples, Pops Staples, Wanda Jackson, JD McPherson, Pokey LaFarge, The Cactus Blossoms, The Minus 5, The Redwalls, Booker T. Jones and Robbie Fulks. Just as they're known for having worked with those artists, they're known for their hometown bands The Western Elstons (old-fashioned country & western), Scott Ligon's All Stars (rhythm & soul), and The Letter 3 (rock & jazz). Any band involving any one of the three is guaranteed to be a musically eye-opening experience - God help you if you see all three at once....."
-Scott Franson, Chicago Music Writer
Here they are from an appearance here from June of 2018: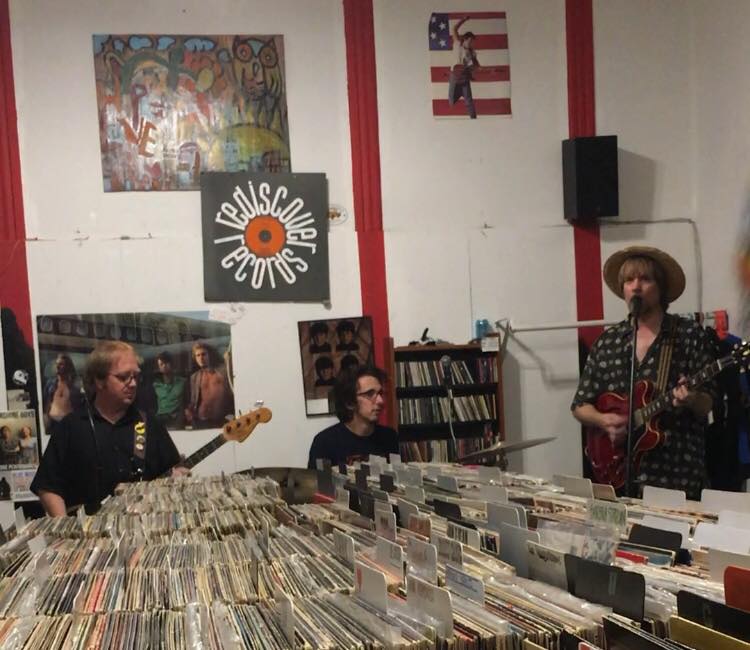 Dollar Records are "3 for $1"
Our dollar bins are in the back section of the shop. While dollar bins are what they are, you might be surprised at some of the artists you may find there. You read it correctly! Our Dollar Records are "3 for a $1"! So get three 33-1/3rpm records for a mere 33-1/3 cents (See what we did there?) but the only catch is you must buy in 3's and even if you only find one, it's still only $1. What a deal!
We brought back our Classical and Opera Box Set!
We brought back our Classical and Opera Box Set (or do you say Bach's Set?) that is going on indefinitely. Buy any 3 Classical or Opera Box Sets for $10. They must be Classical or Opera and must be a box set. Here is a chance to think outside the Bach's! Heyo!
We've recently added a "Less Than $5 Bucks Bin". This box full of records is located by the check out area. These are records that you may have forgotten, overlooked, or may have that one or two songs that made it great to begin with! We also have a brief capsule or description written on a note on each record.