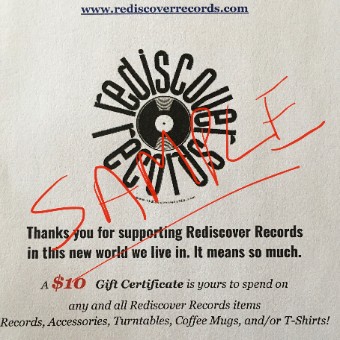 Price: $

10.00 | Buy Now

Sizes:

$10 Gift Certificate

Condition:

Official Gift Certificate
Support Rediscover Records with a Gift Certificate! The "Buy Now" button will direct you to your own PayPal account where you can purchase a Gift Certificate to support the shop and use it at another date. With the COVID-19 "Shelter In Place" in effect til at least April 7th, we will be closed at least til then. This is a great way to support the shop and then have some loot when we open again. Leave your address with purchase and we'll get it in the mail ASAP. These are available for pick-up with valid ID to vouch for yourself, though we probably know you already anyway. Thanks!!