Welcome to Rediscover Records!
Rediscover Records is a record store in Elgin, Illinois. We are located at 9 S. Spring Street in historic downtown Elgin. We specialize in the best in New Releases as well as the best in gently pre-played records. We have thousands of records 33-1/3rpm, 45rpms, and 78rpm records. We can be reached at 847-961-8445. 
Our email is: This e-mail address is being protected from spambots. You need JavaScript enabled to view it.
HOURS:
Monday: 12pm - 6 pm
Tuesday: 11am - 7 pm
Wednesday: 11am - 7 pm 
Thursday: 11am - 7 pm
Friday: 11am - 7 pm
Saturday: 11am - 7 pm
Sunday: 12pm - 4pm
Open Mother's Day 12pm - 4pm
Open Memorial Day - May 28th 12pm - 4pm
If you are having trouble viewing our site because it's not gadget friendly on certain devices, click "reader view" (those horizontal lines near the webiste URL) on your phone or you can get some basic store info on our blogspot page: rediscoverrecords.blogspot.com/
We gladly accept all major credit and debit cards. Cold hard cash is always nice too!
Thanks for a great Record Store Day on April 21, 2018. There was great energy throughout the day, from the line entering the building at 8am to everyone else that came in throughout the day. Thanks for Blue Box Cafe for supplying the morning jolt of coffee, Herb's Bakery for for some rad record-themed cupcakes, Brendan and Tanner from WC and the Fam for some live music for the afternoon shoppers. Of course, a big thanks to YOU for choosing to shop here, be it on Record Store Day or any other day of the year. Here's a few pictures from the day. Scroll down a wee bit.
As of May 3rd 2018, these are our remaining RSD exclusive releases. Limited Supplies. Open 7 Days A Week, scroll back up to see our hours.
Buffalo Tom 7"
Trampled By Pachooli
Sock Tight
Dr Dre
Compton's Most Wanted
Boston Hardcore
Rush Soundtrack
Gloria Gaynor
Dap Kings
Blitzed Trapper
Car seat Headrest
Cam'ron
Star Wars
Albert Hammond Jr
John Wesley Harding
Parquet Courts
Eeeeek!! A Mouse
Kreator
Jeff Buckley
Dr Who
Richard Lloyd (both)
Common
Soft Cell
Tom Waits "Bastards" and "Bawlers"
Madonna
Moody Blues
Sando/Malkovich
Marvin Gaye "Sexual Healing"
Lou Reed
Prodigy (pic disc)
Patty Smyth & Scandal
Survive (The Stranger Things Guys)
Cure ("Mixed Up" and "Torn Down"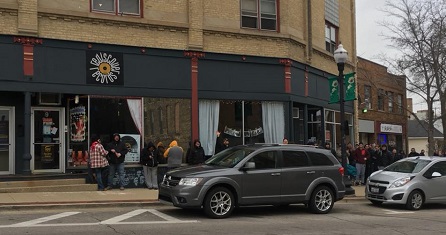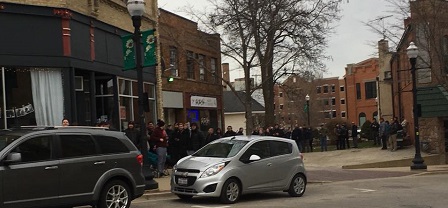 These two photos prove not all heroes wear capes and tiaras. This goes for everyone that takes the time to job indie at their local indie record shop on *any* day of the year. We thank you.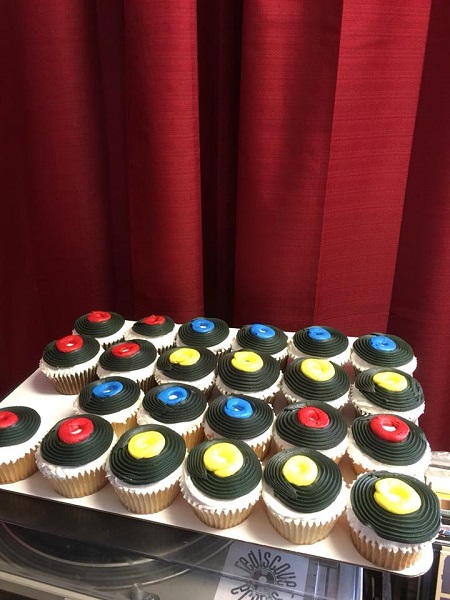 CUPCAKES!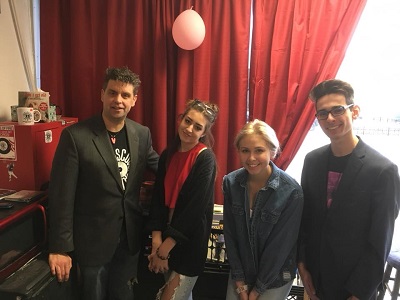 The Record Store Day Lovelies! Great job team!
We try to feature some current releases and reissues on our home page. Please know while we try to keep our site updated as much as possible (especially the new releases and reissues) our site is but a snapshot, so to speak of all the records in our shop. We have thousands of records, from the aforementioned new releases and reissues to the best in used preloved vinyl. We also have 45rpm and 78rpm records. Some check us out.

Odelay
Artist: Beck
$19. 98 | Buy Now
Condition: New & Sealed
Label: Geffen Records
Beck reissues, that's where it's at! Oh man. Classic. You know all the tunes, now have them on vinyl! "Devil's Haircut", "Hotwax", "Jack-Ass", "Minus" and of course, "Where It's At". Produced by Beck and the Dust Brothers. You can now replace that CD or send the digital to the recycling bin on your computer.

1000 Days
Artist: Wand
$19. 98 | Buy Now
Condition: New & Sealed
Label: Drag City
One of the more exciting (of many) new releases from Drag City Records, brings us the band Wand. They seemed to have channeled their exuberant, in the moment, live sound and captured it on their recordings. Just think to cast yourself into these songs to an unknown universe of music! Find this in the New Vinyl rack at Rediscover Records or order it here with our secure "Buy Now" buttons, which will take you directly to your own Pay Pal account.

Lifer
Artist: Dope Body
$20. 98 | Buy Now
Condition: New & Sealed
Label: Drag City
Another great releases from 2014 in stock at Rediscover Records! From our friends at the Drag City label, the label that has brought you Smog, Loose Fur, Pavement, Bill Callahan, and Ty Segall, just to name a few, has released the latest from noise rock band Dope Body! Recorded LIVE, this record brings that organic sound from this Baltimore quartet that begs you to inch up that volume! Included on this LP is "Repo Man", "Hired Gun", "Echo", "Day By Day", "Toy", "I'd Say This To You" and others. Dope Body is Zachary Utz on guitar, John Jones on bass, David Jacober on drums, and the vocals are handled by Andrew Laumann. Dope Body was formed in 2008.
Star Wars RSD Turntable
$124. 98 | Buy Now
Condition: New

We were able to score a few more of these Star Wars 40th Anniversary record players! This is a great unit to begin playing records *today*. No other components are needed, just open the box and set it up. These were issued for Record Store Day in 2017. A great gift for any Star Wars fanatic who may also be in the Venn Diagram of a vinyl enthusiast too! This is the Crosley Cruiser model of turntables with built-in speakers, ear bud slot, built-in phono amp, and RCA jacks. This means you can plug it into a system and it will be, in effect, a component turntable! This is a great feature to boost the sound. The earbud jack can also be used to augment the sound too. As if that's not all, it is BlueTooth enabled. A sharp looking record player, it also plays at three speeds (33, 45, and 78rpm) and is portable so you can bring it not only to a turntable night but also a Star Wars night! Worlds collide.
Limited Supplies, once we run out of the few we have, there's no guarantee we can get more. Act accordingly. Updated: November 2017

Boy Crazy & Single(s)
Artist: Lydia Loveless
$21. 98 | Buy Now
Condition: New & Sealed
Label: Bloodshot Records
Re-release of an EP from a few years ago titled "Boy Crazy", but it was only available on CD. This time it's on a vinyl LP and Side 2 is a collection of demos, rarities, and B-Sides. Tremendous Lydia songs on Side One like "All I Know", "All the Time" and "The Water". Side Two includes covers of Kesha and Elvis Costello! Find this in the New Vinyl rack at Rediscover Records or order it here with our secure "Buy Now" buttons, which will take you directly to your own Pay Pal account.

Live at Maxwell's
Artist: The Replacements
$32. 98 | Buy Now
Condition: New & Sealed
Label: Sire Records
A legendary recording by the Minneapolis quartet The Replacements at New Jersey's own Maxwell's. This tour in 1986 was in support of their release "Tim" and it is just weeks removed from their performance on Saturday Night Live, where soon after they were banned for life by Lorne Michaels himself. It's an exceptional recording that existed only through the magic of bootlegs prior to this and some of those versions were of dubious quality. Includes the entire show with most of "Tim" performed as well as "Let It Be". Several early songs make an appearance with strong performances of "I'm In Trouble", "God Damn Job", "Takin A Ride", "Color Me Impressed" and others. A 2-LP set with tremendous liner notes by Bob Mehr, author of the recent Replacements bio "Trouble Boys"

Endtroducing
Artist: DJ Shadow
$26. 98 | Buy Now
Condition: New & Sealed
Label:
DJ Shadow'ss first full-length record, originally released in 1996, it's the first record that is completely sampled. It has endured to become a classic and when we have it in stock here, it doesn't stay long. Speaking of records, what's most impressive about DJ Shadow, other than his work in the industry, he has a personal record collection of over 60,000 records!

Presenting the Fabulous Ronettes
Artist: The Ronettes
$23. 98 | Buy Now
Condition: New & Sealed
Label: Sundazed Records
There's a wing in the Rock N Roll Hall of Fame for singers like Ronnie Spector and her band the Ronettes for a reason. She's unbelievable. Despite Phil Spector being, what some say, certifiably crazy, he really was a mad genius. Behind his songwriting (with others) and his Wall of Sound production, these songs were really the template not only for "girl groups" but for rock n roll. Brian Wilson was a huge fan. The Beatles were enamored with girl groups and Wall of Sound groups and it was because of this, they hired Spector to produce their last record, "Let It Be". Included in this devastatingly good selection of tunes is "Walking In the Rain", "Baby, I Love You", "Chapel of Love", and one of the greatest vocal performances of all time, "Be My Baby". Keep listening to the Ronettes and Spector produced songs and you'll hear the influence in many other songs.

Crack Up
Artist: Fleet Foxes
$25. 98 | Buy Now
Condition: New & Sealed
Label: Nonesuch
A very welcome return by the Fleet Foxes! Released on the Nonesuch record label in 2017, this 2-LP set includes "I Am All That I Need", "I Should See Memphis", "Third of May", and others. Produced by Robin Pecknold and Skyler Skjelset. This is their third release and their first in six years, since "Helplessness Blues". Some say this is their most compelling album to date. Check it for yourself.

Sidelong
Artist: Sarah Shook
$18. 98 | Buy Now
Condition: New & Sealed
Label: Bloodshot Records
This is straight up Cow Punk, as in, turn the buffet over and go home with the bartender drinkin' music! Sarah Shook and the Disarmers have spun several tales of whiskey-bent heartbreak that takes you back to the classic era of country music. Includes "The Nail", "No Name", "Dwight Yoakam" and others. This release has been picked up by Bloodshot Records and we could not be happier. Look for it on our own year-end "Best of". Includes a digital download.

Blackstar
Artist: David Bowie
$32. 98 | Buy Now
Condition: New & Sealed
Label: ISO Records
Little did anyone know that when David Bowie released Blackstar on his birthday of January 8th, 2016, that he was creating art even in dying. He would pass away two days after its release. The final release from Bowie, at least in his lifetime, explores waters of death, dying, and finality. After weeks of waiting, we finally have it in stock. The record includes the title track, Lazarus, Girl Loves Me, and others. It's Bowie's first every Number One album on the Top 200 Billboard charts, which seems nearly impossible.

Divers
Artist: Joanna Newsom
$31. 98 | Buy Now
Condition: New & Sealed
Label: Drag City
Angelic as well as melodic, we bring you the 2015 release from Joanna Newsom. This release, from Chicago's own Drag City Records is one of the more elaborate LP packages you will find all year. A thick deluxe version of original Newsom songs like "Anecdotes", "Goose Eggs", "Divers", "Same Old Man", "The Things I Say" and others. One of the more anticipated releases of the year, you may have seen Newsom perform on David Letterman, Jimmy Fallon, on Portlandia, and in the Paul Thomas Anderson film "Inherent Vice". A grand follow-up to her previous releases, find this in the New Vinyl rack at Rediscover Records or order it here with our secure "Buy Now" buttons, which will take you directly to your own Pay Pal account.
Pet Sounds
Artist: Beach Boys
$19. 98| Buy Now
Condition: New & Sealed
Label: Capital
Released in 1966 this release has influenced artists for decades. Inspired by the US release of "Rubber Soul", it's Brian Wilson's opus. It's become an adjective to describe other records and sounds. How many records can say that? "Oh it has this 'Pet Sounds' feel to it". What a record. Incredible. What more can be said that hasn't already been said? Isn't time you had this on vinyl?
© 2018 All Rights Reserved.