Welcome to Rediscover Records!
Rediscover Records is a record store in Elgin, Illinois. We are located at 9 S. Spring Street in historic downtown Elgin. We specialize in the best in New Releases as well as the best in gently pre-played records. We have thousands of records 33-1/3rpm, 45rpms, and 78rpm records. We can be reached at 847-961-8445. 
Our email is: This e-mail address is being protected from spambots. You need JavaScript enabled to view it.
HOURS:
Monday: 12pm - 6 pm
Tuesday: 11am - 7 pm
Wednesday: 11am - 7 pm 
Thursday: 11am - 7 pm
Friday: 11am - 7 pm
Saturday: 11am - 7 pm.
Sunday: 12pm - 4pm
If you are having trouble viewing our site because it's not gadget friendly on certain devices, click "reader view" (those horizontal lines near the webiste URL) on your phone or you can view our BFRSD list on our blogspot page: rediscoverrecords.blogspot.com/
We have a very special live music engagement coming on March 24th, 2018! A record store appearance by Chicago band Sunshine Boys here to perform from 12:00pm to 1pm! They'll be here to promote their new release "Blue Music". You won't want to miss this! The show is free. Here is a little more about Sunshine Boys via their site, "Sunshine Boys are a Chicago-based trio of veteran recording and touring artists from some of the most revered bands in indierock. Featuring Freda Love Smith (Blake Babies, Antenna, Mysteries of Life), Jacqueline Schimmel (Justin Roberts, Big Hello), and Dag Juhlin (Poi Dog Pondering, The Slugs), Sunshine Boys offer a propulsive, melodic take on pop rock."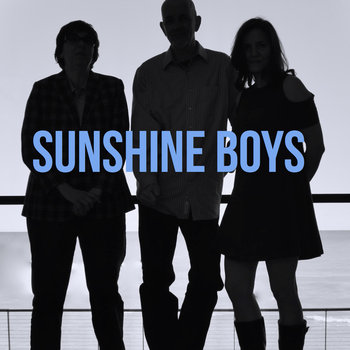 Listen to and get an idea of their pop genius by listening to and purchasing a few songs on their site. Find them on Facebook too. Their site: Sunshine Boys
Once again, we are participating in Record Store Day. RSD18 will be April 21, 2018. We'll open by 8am on the 21st and look for our list up no later than April 20th. We've ordered a substantial amount and we hope to get many of the titles that we ordered. We will NOT KNOW what we will have officially til it arrives the week of RSD. Look for more info as the date approaches.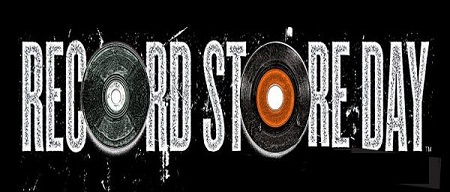 LIMITED TIME! Rediscover Records stickers are back! They are *free* with purchase but if you just want to buy a sticker or an extra one, just $1 each. Stop in soon for your sticker!

We accept all major debit and credit cards - Visa, MasterCard, Discover, and even American Express. Also, of course we accept good ol' cold hard cash!
We are a participating Record Store Day Shop! Record Store Day is April 21st this year. We'll have our complete list posted by April 20th.
There are records listed throughout our site. Most of the Used or Pre-played listings on our site are just a small portion of what we have in the shop. We have thousands of 33s, 45s, and even some 78s. We keep the New Vinyl (click "New Vinyl" on the left hand side of this homepage) listings pretty up-to-date. See the right margin "Recent Albums" for NEW RELEASES we've recently listed on our site. We have shined the spotlight on a few notable albums on our homepage. Take a look!
Exile On Main Street
Artist: Rolling Stones
$34. 98| Buy Now
Condition: New & Sealed
Label: Rolling Stone Records
The greatest rock 'n' roll album of all-time.  Exile is sweltering, southern roots music: rock 'n' roll, blues, country, R&B, funk, sex, and vomit.  If you don't own it, you better be reading this on the way to the cash register to buy it. It saves lives. Truth.   --Lance Davis, author of The Adios Lounge Music Blog. It's one of Rediscover Records favorite music blogs, http://www.adioslounge.com. This is a 2 LP set, 180g vinyl

1000 Days
Artist: Wand
$19. 98 | Buy Now
Condition: New & Sealed
Label: Drag City
One of the more exciting (of many) new releases from Drag City Records, brings us the band Wand. They seemed to have channeled their exuberant, in the moment, live sound and captured it on their recordings. Just think to cast yourself into these songs to an unknown universe of music! Find this in the New Vinyl rack at Rediscover Records or order it here with our secure "Buy Now" buttons, which will take you directly to your own Pay Pal account.

Lifer
Artist: Dope Body
$20. 98 | Buy Now
Condition: New & Sealed
Label: Drag City
Another great releases from 2014 in stock at Rediscover Records! From our friends at the Drag City label, the label that has brought you Smog, Loose Fur, Pavement, Bill Callahan, and Ty Segall, just to name a few, has released the latest from noise rock band Dope Body! Recorded LIVE, this record brings that organic sound from this Baltimore quartet that begs you to inch up that volume! Included on this LP is "Repo Man", "Hired Gun", "Echo", "Day By Day", "Toy", "I'd Say This To You" and others. Dope Body is Zachary Utz on guitar, John Jones on bass, David Jacober on drums, and the vocals are handled by Andrew Laumann. Dope Body was formed in 2008.
I See A Darkness
Artist: Bonnie "Prince" Billy
$19. 98| Buy Now
Condition: New & Sealed
Label: Palace Records
This 1999 release is, arguably, one of Will Oldham's best releases. It's best to listen in a dark room with the only other sounds, perhaps, a creaky floor and a ticking clock. Vinyl sounds better and this record is no exception. If you are unfamiliar with Bonnie "Prince" Billy, this record is an incredible place to start. There's a darkness on the edge of town and it lurks within this record.

Wild Onion
Artist: Twin Peaks
$18. 98 | Buy Now
Condition: New & Sealed
Label: Grand Jury Records
"Chicago's most promising band." -NME
"Twin Peaks have perfected the kind of songwriting that puts you in a practiced, happy headlock." -Pitchfork
We're excited to be carrying Twin Peaks "Wild Onion"! Released in 2014 on the Grand Jury label, there is no shortage of praise for this rock combo, as you can see in just a couple of the quotes here. Included in this LP is "I Found A New Way", "Mirror of Time", "Sloop Jay D", "Stranger World", "Flavor", "Hold On" and others. Look at the album art font, looks like a wonderful homage to the Beach Boys "Wild Honey". In any event, pick this up today! Includes an MP3 download of the entire record so you can take it on the go.

Plastic Beach
Artist: Gorillaz
$21. 49 | Buy Now
Condition: New & Sealed
Label: Parlophone/Virgin
The third release by Gorillaz released in 2010. Recorded during the Carousel project of 08 and 09 and later evolved in Plastic Beach. Features an array of guest musicians on this record such as Snoop Dogg, Mos Def, Bobby Womack, Paul Simonon, and Mark E. Smith. Not bad for a so-called "virtual band", huh?
Star Wars RSD Turntable
$124. 98 | Buy Now
Condition: New

We were able to score a few more of these Star Wars 40th Anniversary record players! This is a great unit to begin playing records *today*. No other components are needed, just open the box and set it up. These were issued for Record Store Day in 2017. A great gift for any Star Wars fanatic who may also be in the Venn Diagram of a vinyl enthusiast too! This is the Crosley Cruiser model of turntables with built-in speakers, ear bud slot, built-in phono amp, and RCA jacks. This means you can plug it into a system and it will be, in effect, a component turntable! This is a great feature to boost the sound. The earbud jack can also be used to augment the sound too. As if that's not all, it is BlueTooth enabled. A sharp looking record player, it also plays at three speeds (33, 45, and 78rpm) and is portable so you can bring it not only to a turntable night but also a Star Wars night! Worlds collide.
Limited Supplies, once we run out of the few we have, there's no guarantee we can get more. Act accordingly. Updated: November 2017

Boy Crazy & Single(s)
Artist: Lydia Loveless
$21. 98 | Buy Now
Condition: New & Sealed
Label: Bloodshot Records
Re-release of an EP from a few years ago titled "Boy Crazy", but it was only available on CD. This time it's on a vinyl LP and Side 2 is a collection of demos, rarities, and B-Sides. Tremendous Lydia songs on Side One like "All I Know", "All the Time" and "The Water". Side Two includes covers of Kesha and Elvis Costello! Find this in the New Vinyl rack at Rediscover Records or order it here with our secure "Buy Now" buttons, which will take you directly to your own Pay Pal account.

Scream
Artist: Michael Jackson
$36. 98 | Buy Now
Condition: New & Sealed
Label: Epic Records
Collectible release from The King of Pop, himself, Michael Jackson. This is a glow-in-the-dark 2-LP set with spectacular packaging. Includes "Ghosts", "Thriller", "Dirty Diana", and others. Also includes "Blood on the Dance Floor X Dangerous" Mash-up. Released on 10/27/2017 to coincide with the Halloween season, this makes for a great gift for any time of the season for any fan of MJ. If ordering from our site, a modest shipping charge will be added via your PayPal account. If you are buying internationally we will need to make separate arrangements via email to add more shipping and insurance. Thanks.

Losing
Artist: Bully
$19. 98 | Buy Now
Condition: New & Sealed
Label: Sup Pop
The sophomore release from one of our favorite bands, Bully. "Losing" is released on the Sub Pop label, home of all the cool bands, check their label listing sometime, but we digress.... This release contains "Feel the Same", "Focused", "Running", "Blame", "Seeing It", "Either Way", "Spiral", and others. We say this often about records, "look for it on Top Ten year-end lists" but this record is no exception. It will make dozens of 2017 Top Ten lists and Best-ofs. Get your copy here! Includes a coupon for a DL of the record.

Sidelong
Artist: Sarah Shook
$18. 98 | Buy Now
Condition: New & Sealed
Label: Bloodshot Records
This is straight up Cow Punk, as in, turn the buffet over and go home with the bartender drinkin' music! Sarah Shook and the Disarmers have spun several tales of whiskey-bent heartbreak that takes you back to the classic era of country music. Includes "The Nail", "No Name", "Dwight Yoakam" and others. This release has been picked up by Bloodshot Records and we could not be happier. Look for it on our own year-end "Best of". Includes a digital download.

Divers
Artist: Joanna Newsom
$31. 98 | Buy Now
Condition: New & Sealed
Label: Drag City
Angelic as well as melodic, we bring you the 2015 release from Joanna Newsom. This release, from Chicago's own Drag City Records is one of the more elaborate LP packages you will find all year. A thick deluxe version of original Newsom songs like "Anecdotes", "Goose Eggs", "Divers", "Same Old Man", "The Things I Say" and others. One of the more anticipated releases of the year, you may have seen Newsom perform on David Letterman, Jimmy Fallon, on Portlandia, and in the Paul Thomas Anderson film "Inherent Vice". A grand follow-up to her previous releases, find this in the New Vinyl rack at Rediscover Records or order it here with our secure "Buy Now" buttons, which will take you directly to your own Pay Pal account.

I Love You, Honeybear
Artist: Father John Misty
$20. 98 | Buy Now
Condition: New & Sealed
Label: Sub Pop
At the time of this writing, this record has been out but a few weeks and it has already garnered very positive praise as one of the better releases of 2015. Look for it on some year end list best ofs, maybe even yours! Recorded to the Sub Pop label, Father John Misty (formerly of Fleet Foxes fame) has released a double album of songs that include "I Went to the Store One Day", "I Love You, Honeybear", "True Affection" and others! We know you're asking... of course it comes with an MP3 of the entire record! Some pretty great album art on the back and front cover of this gatefold release. Do it!
Enter the Wu Tang (36 Chambers)
Artist: Wu Tang Clan
$18. 99 | Buy Now
Condition: New & Sealed
Label: Loud Records
Now me - being a white, suburban-class, pimply teenager - would normally write off a large group of hip hopperz, or gangsta thugz, as being pretty unintelligent and... Well... Stupid (C'mon! I wear thick-framed glasses, khakis, and listen to Wilco!) Then a person like Robert Diggs (aka RZA) comes around and blows every notion I had ever had about Hip Hop out of the water. This guy - pretty much known as a thug from brooklyn - wrote, arranged, produced, mixed, and arranged nearly this whole masterpiece of a record. The story behind the title itself is pretty amazing (Wikipedia it, if haven't heard). This record changed the way I listen to music, and taught me a lot about that whole 'never judge a record by its sleeve' thing... Well... Everything except Barbra Streisand...   -John Perrin, Elgin, IL
© 2018 All Rights Reserved.