About
Our hours are:

Sunday 12-4
Monday 12-6
Tuesday 11-7
Wednesday 11-7
Thursday 11-7
Friday 11-7
Saturday 11 to 7

As you can see, we are primarily open 11-7 each day, save for Sunday and Monday. Hours are subject to be later on certain Friday or Saturdays if there are things going on in town, Art Shows, Events, First Fridays, etc. As reliable as Google is, please check here on this site or on our Facebook page for the most accurate hours. As a rule, if we have customers in here, we never would kick you out. If you can't get here 'til half hour before closing? By all means, stop in, take your time, browse the vinyl. We won't even rattle our keys to hint that you have to leave!
Phone: 847-961-8445
Email us: This e-mail address is being protected from spambots. You need JavaScript enabled to view it.

We accept all major credit cards (save for American Express). This also would include any bank GIFT CARDS you may get this Holiday Season. Bring 'em here! Buy some records!

Rediscover Records is an indie record shop specializing in vinyl in Elgin, IL. We are located at 9 S. Spring Street in wonderful downtown Elgin. It's an historic downtown with the Fox River, an art community bursting with creativity, and several ornate shops and restaurants, all within blocks of each other. More on the shops below.
We are but a few blocks from the Elgin Stop on the Metra Line. The Pace Bus Stop is also just blocks away on Chicago St. There is ample parking at the Spring Street and Fulton St. Parking decks. All parking on Elgin City streets are free parking! For a reference point, we just just 2 blocks north of the Grand Victoria Casino and Festival Park.
We also buy your gently used records. We are only able to look at/buy/take in records TUESDAY THRU SATURDAY. We pay cash (sometimes check) or offer an in-store credit within Rediscover Records. We can't promise you wealth (sometimes nothing at all) but we can take a look at them. The best thing to do is bring them in since we can't make an assessment over the phone. Currently we are not in the market for classical, opera, Christmas, and certain Big Band era records.
Plenty of other things to do while you are in downtown Elgin. The Elgin Public House offers the best in pub food and is a great place to catch a ballgame. Elgin Books is a wonderful place to spend an afternoon with a cup of coffee and a great book. There's Top Notch Tattoo, Side Street Studio Arts (15 Ziegler Court, next to our new location) Blue Box Cafe & Deli; kitty-corner from Rediscover Records, Salon Couture, Al's Cafe & Creamery, Chooch's Pizza, Funky Rooster Tattoo, The Art Space Lofts, Bangkok House, Domani Cafe, Toom Toom Thai Cuisine, The Martini Room (a swanky urban setting to get state-of-the-art martini's!), Prairie Rock Brewery, El Faro Mexican Restaurant, Elgin Knit Works, Pastigel Cafe, Fades and Blades, Jerry the Barber, Soulful Sparrow, Viking Thrift & Art, Retro A-Go-Go, and Elgin Antiques & Uniques. These places are just blocks from Rediscover Records. Danny's on Douglas is just a short walk, and shorter drive, at Douglas and Kimball. If you've bought records here and we bagged them up in a pizza bag, the bag is from Danny's!
The fabulous Elgin Riverside Promenade is open and a wonderful way to explore the Fox River, Walton Island, the Grand Victoria Casino to the south and the Gail Borden Library to the north.

Downtown Elgin has so many other things that you have to just see to believe. It's not your parents downtown Elgin. It's not the downtown Elgin you may remember from 1985, 1995, or even 2005! It's better! Come see for yourself and Rediscover Downtown Elgin today!
In the meantime, we got some records to spin! Get your bad self over to Rediscover Records and get yer wax on! Keep 'em spinnin' and we'll leave you with our favorite MEME.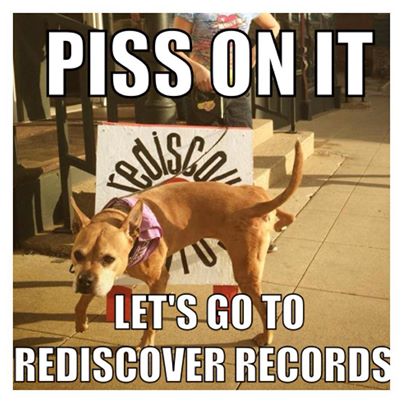 © 2019 All Rights Reserved.