Country-Used
This is just a small representation of the bins of old school country and western records we have. The records listed here are to give you a general idea of our inventory. We have dozens and dozens of LPs that may include Dolly, Willie, Merle, Hank Sr (and Jr.), Johnny Cash, George Jones, Loretta Lynn, Tammy Wynette, and dozens of others. If looking to order a record, please email us to make sure of availability or we can offer up other choices we have in stock. Search: New Vinyl for some new country artists. We mostly steer closer to alt-country like Sturgill Simpson, Chris Stapleton, Jason Isbell, Ryan Adams, Uncle Tupelo, Whitey Morgan, Scott H. Biram and things like that, as opposed to US99 Bro Country. Sorry, bruh.
24 of Hank Williams Greatest Hits
Artist: Hank Williams
$12.98| Buy Now
Condition: Gently Used
Label: MCA
Hanks Williams. That is a complete sentence. A wealth of songs that even the best songwriters of any generation and any genre envy. This is but a small sampling of his greatness. If you must have one Hank Williams record just to get a taste of his brilliance, this is a good start. He died in the back of his Cadillac at 29 years old but his influence is to be felt for decades to come. Hank Williams. A complete sentence.


Have Twangy Guitar Will Travel
Artist: Duane Eddy
$12. 95 | Buy Now
Condition: Gently Used
Label: Jamie/JLP
Wonderful instrumentals by guitarist Duane Eddy. The kind of music you find in cool film soundtracks. The debut record from Eddy that was released in 1958. Includes "Rebel Rouser" among others. An original release, somewhat hard to find. This cover is in decent condition, record plays fine. Order it today!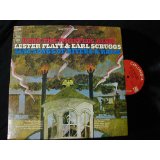 Hear the Whistle Blow
Artist: Flatt & Scruggs
$12. 98 | Buy Now
Condition: Gently Used
Label: Columbia CL2686
Get yer pickin' on with this Flatt & Scruggs "Hear the Whistle Blow. Flatt & Scruggs Sing Songs of the River & Rails". A series of great train songs and classics, such as, "Southbound", "The Atlantic Coastline", "Orange Blossom Special" & "Going Across the Sea". A very reasonably priced record that is in great shape, looks good, sounds good, and is as pictured here. We ship in sturdy records only boxes. Thanks for your support of all things Rediscover Records.

I'm A Lonesome Fugitive
Artist: Merle Haggard
$7. 98 | Buy Now
Condition: Gently Used
Label: Capital T-2702
The words "Living Legend" are often bandied about a little too often. The words to apply, though, for Merle Haggard, a true living legend (This was written in Oct. 2012, so let's hope he's still alive) in the music industry. An influence not only to country artists but to rock artists throughout history. A little Elgin reference, Merle Haggard has played the Hemmens Auditorium in the past, a place just blocks from Rediscover Records. Sometimes rock bands and railroad tracks are a little overdone, but not with Merle Haggard. Look at this record cover, isn't it cool? Includes "Skid Row", "Someone Told My Story", and "Life In Prison". Nice.

The cover of this record is in great shape. The record itself has been shown a lot of love, as we like to say, in that it does have some surface noise, but plays fine. It does have the original Capital rainbow label. Yes, it has an inner sleeve.

I've Been Everywhere
Artist: Hank Snow
$6. 98 | Buy Now
Condition: Gently Used
Label: RCA Victor LPM-2675 *MONO*
You know this song, "I've Been Everywhere". It's been used in commericials, Johnny Cash has covered it, and Bruce Springsteen pays homage to it in his live version of "Light Of Day". Several other Snow classics "Galway Bay", "Jamaican Farewell" and "When It's Springtime In Alaska" are included. Now, this record, as we like to say, has been shown a lot of love. It has some scuffs and some bacon frying in the background, i.e. surface noise. The price reflects this. It does play through without a problem and is a nice piece of American music history. Burn "I've Been Everywhere" to your next traveling playlist or ... mix tape.

Just Me and My Guitar
Artist: Hank Williams, Sr.
$19. 98 | Buy Now
Condition: Gently Used
Label: Country Music Foundation
We've bandied the word "Legend" around a little bit with some of our Jazz and Country write-ups of records, but can we agree that the one true legend that is not hyperbole is Hank Williams, Sr? This record is in great condition. It has been opened, but it has the original cellophane on the jacket. We've kept it stored in a 2mil plastic sleeve. It's from a well-kept collection. The content is just as it says, Hank Sr. and his guitar with such songs as "Honky Tonk Blues", "The Log Train", "Lost On the River", "Your Cheatin' Heart" and "Jambalaya". This is awesome, an inside look at Hank sans a crowd and a band. If these songs were recorded in the 1990's they'd call it "Un-Plugged".

Kentucky Blue Grass
Artist: Bill Monroe
$16. 98 | Buy Now
Condition: Gently Used
Label: MCA-136
Hey all you neo-folkies! This is the real deal here. This is where it all started! This, folks and folkies, is Bill Freakin' Monroe. Whew. Excellent artifact of American music history on one record. Sir Paul McCartney even hails him as a hero. Great songs on here like "I Live In the Past", "Cripple Creek", "Never Again" and "Fire On the Mountain". Once again, with some of these vintage records, great, great liner note. This time written by Ralph Rinzler of the Smithsonian Institute. Think about that for a moment. Bill Monroe is so revered in music someone from the Smithsonian writes the liner notes. Come and get it!

Lonesome Is Me
Artist: Charlie Louvin
$14. 98 | Buy Now
Condition: Gently Used
Label: Capital T2482
Once again, another legend in the world of country music, Charlie Louvin. Charlie is the surviving brother of the incredible singing country duo, The Louvin Brothers. His brother, Ira, died a tragic death that is almost out of a country song in itself. Here on this great Capital release is "Lonesome Is Me", "Making Plans", "All the Lies Are True" and "Two Minus One". Unfamiliar with the Louvin Brothers? If you are a fan of the Old 97's or Uncle Tupelo (to name a couple), they have covered Louvin Brother songs. If any further questions please call us at 847.961.8445. Check our "New Vinyl" tab for Louvin Brother reissues from the Light In the Attic record label.
Nashville Airplane
Artist: Flatt & Scruggs
$12. 98 | Buy Now
Condition: Gently Used
Label: Columbia CS9741
Some more excellent country music at Rediscover Records. This time by the likes of the famous blue grass duo Lester Flatt and Earl Scruggs. Here on this record (with great liner notes by Louise Scruggs, the Flight Attendant for Flatt & Scruggs) Flatt and Scruggs cover a select choice of great cover songs. They have Dylan, Donovan, Cash, Hardin, and Ste.-Marie. This record is a great place to take your rock collection for a ride in the country. The record is as pictured, plays great, looks great. Let's go for a ride in the country!
© 2019 All Rights Reserved.